Company & Employee Biography's
BoatRenting.com Inc ™ is a sub corporation of Hilderbrandt Industries. Hilderbrandt Industries is owned and operated by the Hilderbrandt family. The Hilderbrandt's have owned and operated marine related businesses for over 50 years. BoatRenting.com Inc™ main operations are handled from their marina, Beaver Dam Marina, 320 South Country Rd, Brookhaven NY. Beaver Dam Marina is a company that specializes in boat rentals, service, storage and slip leasing.
Kenny Hilderbrandt,
President, CEO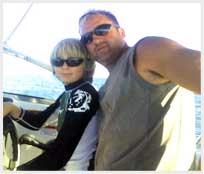 Web Master & Designer of BoatRenting.com, RentaBoat.com and RentaSailboat.com was born and raised on Long Island, NY and is an avid boater with 20 years experience in boat yard management. Kenny studied computer programming and business management during the winter months while managing his families' marina in the summer. Responsible for creating and finding additional income opportunities, he started the boat rental division of his marina. Becoming inundated with emails and phones calls from people around the world looking for quality boat rental facilities in their area, he realized there was a big market for networking such rental facilities on a larger scale. He realized he faced two obstacles, he needed boat rental facilities with there rental inventory on his site and second he needed a system that would rate both the facilities and the renters by their rental experiences. It also needed to be cost effective for everyone involved.
The facility, the renter and himself. Being in the boat rental business himself, he realized that rental facilities are limited to their rental advertising expenditures and designed a system that didn't cost the facility any upfront monetary investment. Kenny also developed a Boat Rental Office Management system and software program, which would schedule rental times, print contracts, daily reports, offer online reservations and market or sell boat rental times, all from the web site. Facilities now had a reason to sign on AND potential renters were able to view real-time boat availability. In return for the use of the system, facilities would allow him the opportunity to sell their rental times & would offer him a commission for rental times sold. In order for the renter not to be penalized for booking through the site, he required the facility to discount their rental prices by the amount of the commission. This created a win-win situation. The facility gets a boat rental management system without any capital layout, gets to advertise his boats on all of our websites and a rental history report of past rentals from the renter. The renter is able to find rental boats in his area, see real-time availability, is able to reserve it online and sees a Facility Rating.

Kasey Hilderbrandt,
Corporate Secretary
Kasey Hilderbrandt has vast knowledge in customer service & relations from her experiences working in the medical field. Kasey will maintain the company records and be in direct communication with the accountant and other advisors. She will also be in charge of the book keeping, computer system and perform all of the desktop publishing for the company. She will assist as needed with sales, shipping and receiving, and customer service related issues. In addition to her regular duties, Kasey will be doing Internet marketing from her office at Beaver Dam Marine.
Kenneth Hilderbrandt SR,
President of Partner Development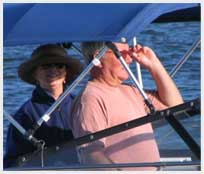 Chief Executive Officer for Beaver Dam Boat Basin holds vast experiences in both the automotive and marine industries. Ken SR is currently on the Board of Directors for Beaver Dam Boat Basin, EZ Flip Inc and was CFO and proprietor of Hilderbrandt & Sons Inc. With over 50 years of sales & marketing Ken concentrates most of his time with facility partnering and development.

Travis O'Shaughnessy,
Director of Partner Development
Travis O'Shaughnessy has been an avid boater most his life, and has held management positions for numerous small businesses before teaming up with Hilderbrandt Industries about 8 years ago. Since then, he has gained the hands on experience and knowledge of the boating industry needed to successfully execute his position as Director of Partner Development. His goals are to find new ways to increase profits for partnered facilities and assist in providing ideas to refine customer service. He has been focusing on BoatRenting.Com's partner development for the past 3 years now and emphasizes a professional yet personable relationship with its clients.
"I couldn't ask for a finer group of people to work with, and look forward to seeing what this company can do to help unify the boating industry in the future."
-Travis O'Shaughnessy